If you're thinking about a jet helmet for use in the city, then the FSD 630 with its modern look, aerodynamic design, internal tinted gel and extremely low price is one of the most tempting options.
FSD helmets have begun to establish themselves in the Greek market and why not, since they have a very low price and meet European specifications. They are an ideal choice for people who cannot afford to head for the more expensive category, but at FSD they can get a helmet that will secure them in the first place. As such, FSD helmets have achieved their purpose. In general, their products are characterized by beautiful and modern design, which makes them even more enticing. Its range is complete, as it includes fullface, jet, modular, off-road, opening and kids' helmets.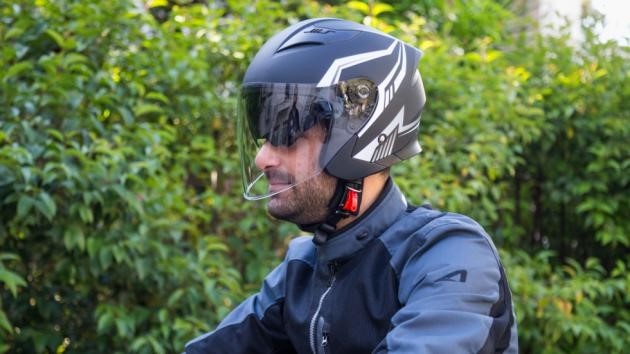 The FSD 630 belongs to the category of Jet helmets with its weight, although it is not light, being in the average of the category, since in our precision scale it reached 1.320 g. The above number is almost expected if we take into account the mechanism of the internal tinted gelatin. The outer shell features a modern look with an aerodynamic design, and is made of thermoplastic ABS which is quite often found in the construction of such helmets due to its low weight. At the same time, it offers absorption of impact forces, which are spread across the surface. The front face is covered by a large transparent gelcoat, adequately protecting the face from the wind and other environmental elements, while due to its jet structure, your peripheral vision is not restricted anywhere. Included in its very low price, is the tinted UV protection inner gel that goes up and down manually, which will make you forget about sunglasses, especially for a sunny country like Greece. Its performance we would say is satisfactory given its affordable price.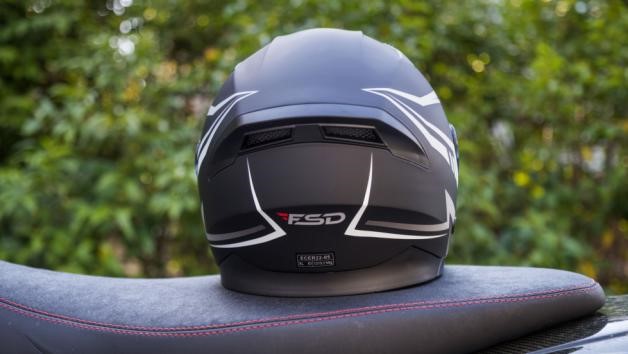 The FSD 630 should not be forgotten that it is a jet helmet, which automatically means that it can be worn quite easily. Once you put it on, you'll find that the inner hypoallergenic liner is within its price range, with the pads being thin but soft, and easily removable and washable to keep it fresh at all times. We tried taking them off and washing them, the fit on re-fitting was the same as the original, this is very important as they will be washed many times especially in the summers when there most used and this is something not seen in such low cost helmets. In addition, for added security it has a micrometer buckle clasp with a reinforced strap which you can easily operate with one hand. Among the nice details we liked, belongs the small metal ring on the strap, offering the possibility to hang it from a hook, thus increasing practicality.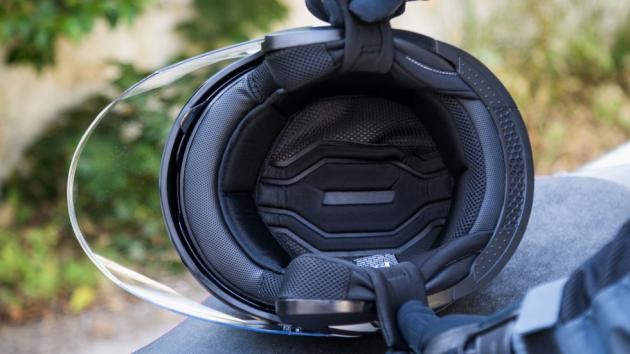 The FSD 630's ventilation system also contributes to comfort, having two front adjustable vents that take care of fresh air intake inside, while in combination with a hot air extractor at the back, they create a "cool" channel that will relieve you when temperatures rise. Returning to the jelly, its removal is a breeze and tool-free thanks to its release mechanism, while at the top a rubber gasket takes care of the extra sealing.
With the purchase of the FSD 630 you will also receive a cloth carrying bag and a microfiber gelatine cleaning cloth. The FSD 630 is a value for money helmet, but what it offers will satisfy you 100%. It has a modern look with modern features that meet all the needs of the modern rider in the city, offering all the benefits of a jet helmet. Its main advantage, is its very low price available, and you will probably appreciate this more.
Large external gelatin and internal tinted gelatin.
Soft pads on the lining.
Adjustable vents on the top.